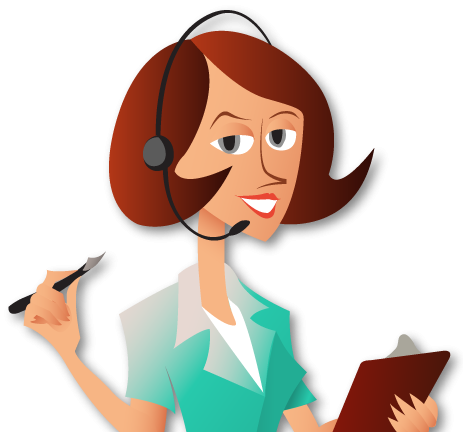 How does Front Office Staff Reno differ from other call answering services or call centers?
Front Office Staff Reno's virtual receptionist service includes traditional call answering service and call center features, but your clients won't know we are offsite. We manage this by incorporating the latest technology available. This unique technology enables us to tailor our service of our Reno call center to your specific business needs and allows us to offer much more than traditional services.
Why choose Front Office Staff Reno over another call answering service or call center?
Front Office Staff Reno is proud to say we have returned to the basics of customer service. Our receptionists always answer with a smile in our voice, project a professional image, and take an interest in helping our clients' customers. We go the distance by helping our clients complete any possible sale. It could be as simple as locating our clients or discussing our client's products and services they sell. Our call center service in Reno is dedicated to providing our clients with a service that is unique to their business industry.
What makes Front Office Staff Reno's services unique?
A customized script is developed for answering your calls. Additionally, our receptionists have a detailed company profile that outlines how your calls are to be handled. General information specific to your company can be relayed, including office hours, directions and basic procedures. Front Office Staff-Reno can also provide call screening, scheduling, appointment confirmation and quotes for standard fees. Our receptionists are only limited by the information and guidelines provided.
The result is an informed, live receptionist providing a polished first impression. Customers never realize their calls are answered from a remote Reno call center service and often comment on how friendly and professional your receptionist is.
How will I know my calls are being answered and delivered accordingly?
A live, Front Office Staff receptionist will answer your calls within three rings, ready to assist your clients. With state-of-the-art technology and multiple receptionists ready, each call is received professionally and handled in a timely fashion according to your specifications. Once you experience our service, you will enjoy the piece of mind of knowing your callers are consistently well taken care of by our call center service in Reno.
What can I expect when clients call? Is there background noise, on-hold systems or music?
The receptionists at our call center service in Reno sit in a controlled environment, thereby reducing the background-noise level. Your caller will be greeted according to your specifications by a friendly receptionist who is knowledgeable about your company. Although no caller is put on hold for an extended time, when they are on hold the caller will enjoy pleasant music while they wait.
How hard is it to get started?
The hardest part is deciding to give us a try! Once you say yes, we get to work. A profile detailing how you want your phones answered is designed, phone lines are prepared, and your voice mail set up. Our receptionists review your profile and become as familiar as possible with your business. Finally, we run a few tests to make sure everything is working smoothly. From start to finish, this process takes about four days and only a few minutes of your time.
Is special equipment required?
No special equipment required! All you need is the forwarding code from your telephone provider. We have all the equipment and lines needed to handle your calls.
Is there a contract to sign?
Yes, but it is a very straight-forward and month-by-month contract. We understand that business needs may change. We even have some businesses that utilize our services solely during their busy season, and we've worked together in that fashion for years. Our goal is to be easy to work with, not add to your pressure. To cancel, all we need is a written, 30-day notice.
What benefits to my company can I expect?
By using the services provided by Front Office Staff Reno, our clients reduce overhead costs while providing outstanding customer service. Our clients are able to focus on their business and have enjoyed an increase in their customer base, growth, and profits.