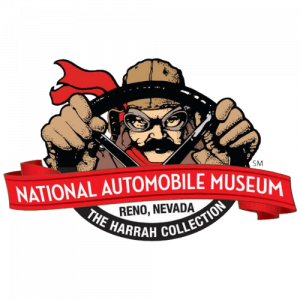 The National Automobile Museum (NAM) in Reno, NV opened in 1989 to display the remarkable car collection of prominent gaming pioneer Bill Harrah. Mr. Harrah had an intense interest and appreciation for vehicles of all kinds, leading to his immense automobile collection which consisted of over 1,400 vehicles. His collection is the largest and most historically significant in the world, leading to the development of the National Automobile Museum which has now set the standard for automobile museums worldwide. In honor of Bill Harrah's incredible dedication to the automotive industry, the museum was created and still exists today thanks to a persuasive public and the generosity of many.
Our Mission and Why We Do It
Our mission is to collect and preserve the automobile for future generations while emphasizing Bill Harrah's large collection of cars to tell the story of the impact of the automobile on American society. We foster the theory that learning can be fun for both adults and children, which is why the museum was formed solely for educational purposes. We are dedicated to offering entertaining and educational experiences through special programs, exhibits, events, and stories about our collections – as well as sharing history through the timeline of the automobile.
Host an Event with NAM
Over time, we've become a popular venue for grand events including weddings, receptions, conferences, networking, corporate meetings, holiday parties, award ceremonies, fundraisers, and much more. The National Automobile Museum (Harrah's Car Collection) welcomes receptions and banquets as intimate as 60 and as large as 1,200. Located in downtown Reno just a few blocks from many of the major casinos, our antique car museum is an ideal location with free parking.
Interested in hosting your next event somewhere truly unique? Contact NAM today to book your event at the world's most prestigious automobile museum.
Upcoming Events
NAM has partnered with several local businesses to provide a range of events to promote networking opportunities as well as serve multiple other purposes. Some of the most upcoming events include:
NAM Small Business Trade Show and Conference on August 10th. Come show off your business or support your local community at the National Automobile Museum!
Adopt and Drive Event on August 7th. NAM is partnering with the Nevada Humane Society to provide the opportunity to look at some classic vehicles and adopt a pet in need! What could be better than that?
Art, Autos, and Wine on August 18th. Here you can enjoy some fine wine, vintage automobiles, and artwork from internationally recognized artists. This event does cost $25 to enter and attire should be formal.
Whether you're an avid car enthusiast or are just looking for a unique space to host your next big event, the National Automobile Museum is the spot for you. Connect with us today to learn more about booking with and visiting us! We look forward to meeting you!
Contact Info:
Phone: (775) 333-9300
Email: info@automuseum.org
Address: 10 South Lake St, Reno, NV 89501
Hours of Operation
Monday – Saturday: 9:30 am – 5:30 pm
Sunday: 10 am – 4 pm