"Transforming Leaders From the Inside Out" – Shari Pheasant
Horsepower Strategies is a marketing consulting company specializing in developing strong leadership in the workplace. Led by award-winning business expert Shari Pheasant, Horsepower Strategies provides quality marketing strategies and solutions by working directly with the leaders and employees of small and medium-sized businesses in the area. Shari has over 30 years of leadership experience and has served as a talent development specialist and growth strategist in her past.
Shari is also a highly notable keynote speaker who focuses her speeches on building, developing, and inspiring company culture through conversation and communication. This creates a collaborative workplace and improves work relationships which is crucial for maintaining a successful business. By working directly with business owners and employees, Shari is able to create your ideal work environment from the inside out. Ask Shari to join you for your next event as a keynote speaker to captivate and inspire your audience!
Women's Leadership and Legacy Retreat
Shari is also the host of the annual Women's Leadership and Legacy Retreat. At this retreat, women who are interested in developing their leadership skills come to learn about "the power of understanding their authentic leadership styles and using this knowledge to influence being an impactful leader, business owner, and human being."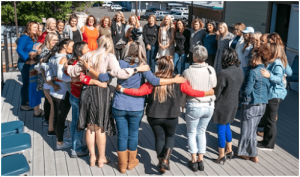 Also during this retreat, guests can expect to learn other valuable skills related to leadership and relationship building such as bridging communication gaps, understanding how others think, and much more. Of course, relaxation is also a priority during this retreat as Shari understands the need for balance between fun and work.
Lead Your Legacy Women's Online Leadership Training
Horsepower Strategies' online leadership training provides women with the opportunity to help them achieve a new level of confidence and a greater sense of ownership of their authentic leadership potential in several ways. The online leadership program will help women strengthen their influence, have critical conversations, and build relationships that will positively impact your career. To sign up for the LEAD YOUR LEGACY WOMEN'S LEADERSHIP ONLINE TRAINING, click the link here.
For more information about Horsepower Strategies, visit their LinkedIn page! They'd love to connect with you!